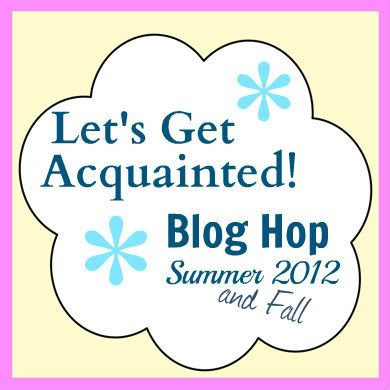 Today, it's my turn to introduce myself (Hi! I'm Jenelle) and share a few favorite projects, plus a new hexi tutorial, for the
Let's Get Acquainted Blog Hop
. For those of you who are new to my blog, I like to make colorful quilts and other sewn items, so I thought I would put together a mosaic of some of my favorites from this year:
I also wanted to share a little bit about myself and provide the burning answers to a few of Beth's interview questions. Inquiring minds want to know right? ; )
How long have you been quilting
I've been quilting for a little over a year now. I originally started out sewing bags, and got drawn into the quilting world through my love of fabrics (don't we all!) and by reading quilting blogs.


Favorite quilting tip(s)
Using starch is definitely my favorite tip. I use starch before I cut my fabric, after I've sewn my blocks, when things get wonky, when I need my seams really flat...Yeah I use starch for everything!

Favorite blogging tip(s)
Only blog about the things you are excited about. It can be easy to start turning the conversation more towards what you think other's expect you to post about (or towards what others are posting about). Your blog is your space and your story, so keep it original and true to what you want to share.

Favorite fabric (or wish list fabric)
Choosing a favorite is nearly impossible, but if I had a time machine and could go back a few years, I would buy more Park Slope by Erin McMorris and anything Tula Pink or Anna Maria Horner.

Favorite craft book

Favorite TV show while hand stitching
I've been working my way through the newer Star Trek series' lately on Netflix. Geeky? I know! But Next Gen is actually pretty good. :)

Binding - by hand or by machine?
By hand, always and (probably) forever.

If I'd only known - what you wish you knew about blogging before you started your blog
Be prepared for a second job! In all seriousness, I don't think I realize before blogging how much work goes into preparing a post. You have to make the project, take the photos, edit them, format the post, write the content, and then post it. It's really fulfilling, but it is a pretty time consuming process too.
-------------------------------------------------------------------------------------------------------------------------
Now that you've gotten to know me a little better, I thought it might be fun to share with you my newest favorite obsession, English paper piecing. This past spring I started the most epic, free-form, mind-of-its-own project involving hexies and a lot of striped fabric.
This quilt effectively has no game plan (except to loosely follow
this block design
in some larger sense), which is very different than the way I usually work. I wanted to share my love of hexies with you guys by providing a few hexi template sheets that I whipped up for my project as well as a paper-piecing tutorial to get you started. Come on! You know you want to. : )
In order to make your own hexi templates,
print the template sheets on copier paper or cover stock (I prefer cover stock) making sure your print settings are set to "no scaling" or "100%". Then using a craft knife or sharp scissors, cut out your template pieces using the lines as your guide.
How To Hexi / English Paper Pieced (EEP) Hexies Tutorial
Stuff You'll Need
Hexi templates
Glue pen (I use Sewline) or pins
Fabric Scraps, about 1/4" to 1/2" larger all around than your template
Basting thread
Matching sewing thread
Sharp hand sewing needle
Begin by grabbing your template, your fabric scrap, and your glue pen or pins. Secure the center of your template to the fabric using a swipe of glue or a pin, making sure that there is at least 1/4" of extra fabric all around the outside of the template. Then trim the fabric to fit the shape of the hexagon, leaving 1/4"all around
(this is essentially your seam allowance)
.
Next, grab your basting thread and your hand sewing needle. It works best if your basting thread contrasts the fabric you are using to make removing the stitches easier later in the process. Knot the end of your thread and bring your needle up through the middle of one of the sides of the hexi, front to back, folding the fabric over as you go while stitching through the paper and fabric together. You will begin moving clockwise around the hexi, wrapping the corners carefully (almost like a present), and securing each corner with a stitch as shown, stitching through both the fabric and the paper each time. I also like to make an additional stitch in the center of each side (like how we started) if the hexi shape is larger than 1", but it's up to you.
This is what the back of your hexi will look like when completely basted (see last pic above).
And this is what the front of your hexi will look like when completely basted. Give it a nice press with a spray of starch if you have some.
So what do you do once you have made a few hexies? You sew them together of course. : ) You can make lots of different kinds of shapes like this:
Or even like this (using multiple sized shapes):
No matter what shape you'd like to make, here's the basic way for stitching them together. Grab two (or more) hexies and your matching thread. This time you want your stitches to blend in.
Place two hexies together, right sides facing, and turn to the top the seam you would like to stitch.
Knot the end of your thread and
insert your needle into the corner of your hexies, making sure to grab only a few threads and to not stitch the paper (you can feel when you hit it usually).
Using a whipstich, stitch along the seam, making sure that with each stitch you only grab a few threads and that you do not stitch through the paper.
When you are finished with the seam, knot the end and bring your thread back through under the flap of fabric before clipping the thread. This is what your seam will look like when you flatten out your hexies, back and front. See how the stitches disappear?
You can keep adding on more hexies using this technique until you have the shape you want. When you stitch a hexi to two other hexies that are already sewn together, you may need to fold one of those hexies in half to make sure the seams match-up, but don't worry, it'll snap back into shape once you're done.
When you have the finished shape that you want, give it a nice press, and then you can carefully remove your basting stitches and the paper templates (which are reusable if you like). Press again and applique that baby down! You can also make entire "sheets" of hexies, which you can use like you would any pieced fabrics to make all kinds of sewn items. And that's a basic run-down for how to make EEP hexies. : ) Thanks for following along!
There are some other excellent bloggers posting this week for the blog hop:
July 10
Julie from
Bedsheet in the Kitchen
July 12
Rebecca from
Sew Festive Handmade
Marti from
52 Quilts in 52 Weeks
Make sure to stop by and say hi to Julie, Rebecca, and Marti and to keep hopping along with the rest of the fantastic line-up coming this summer and fall.